Rough Around the Edges – 1998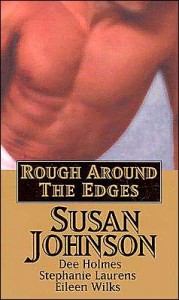 Four extraordinary romance authors pen scintillating stories of the most dangerous rogues-and the fiery women who can soften their hardened hearts…
Playing with Fire by Susan Johnson
Once Burned by Dee Holmes
Melting Ice by Stephanie Laurens
Simple Sins by Eileen Wilks
Naughty Naughty – 1999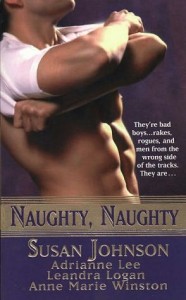 Mischievous plans, sinful seductions, and all-around bad behavior-what could be more fun? Read these four unforgettable stories by some of today's sexiest authors, and find out how nice it can be to be naughty!
Susan Johnson brings you to the decadent Regency period.
Adrianne Lee gives a 25-year-old virgin a new leas one life.
Leandra Logan spins a scintillating contemporary tale of desire and betrayal.
Anne Marie Winston sends a loveless cookbook author and a seductive rogue to spend a few days together in a rustic cabin.
Most of the good things in life are…Naughty, Naughty.
Captivated –
1999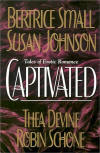 Four masters of sensual historical romance–including Susan Johnson, Thea Devine and Robin Schone–transport readers to a world where fantasies come true and passion is bound only by the limits of the imagination. A world that will arouse your senses and hold you completely…. Captivated
Fascinated – 2000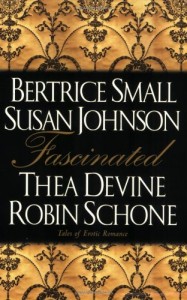 Whether the four novellas gathered here strike readers as erotic or pornographic, they certainly push the envelope of the historical romance genre. Risking It All, Johnson's contribution, features a young widow. She is Felicia Greenwood, who gambles in Monte Carlo to save her villa. Just as she is about to lose her fortune, a handsome stranger offers assistance. Victorian-era principles notwithstanding, Felicia repays her mysterious benefactor by spending some wanton hours with him.
Delighted – 2002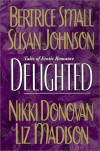 The Awakening by Beatrice Small. In 1793 Renee trades her virginity to save the life of her infant niece Marguerite.
Out of the Storm by Susan Johnson. In 1894, Lulu enters a shack followed by a stranger William.
Enchanted by Nikki Donovan. The knight abducts Esmay and takes her to the Beast Alexander who wears a mask to hide his disfigured visage.
With His Promise by Liz Madison. Port's army besieges Victoria's castle until Stephen arrives with help.
Taken by Surprise – 2003

An erotic game takes a most unpredictable course. A forbidden encounter leads to desire and danger. And a lover's provocative tale includes a very surprising twist. Tried-and-true passion may be lovely, but when it comes to deliciously wicked sinning, there's no greater aphrodisiac than being…
Taken By Surprise
Strangers in the Night – 2004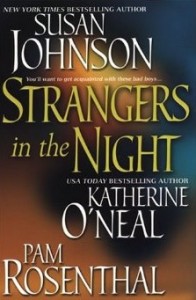 A sizzling collection of short stories
Natural Attraction by Susan Johnson
Fool Me Once by Katherine O'Neal
A House East of Regent Street by Pam Rosenthal
Not Just for Tonight – 2005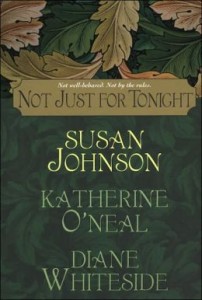 These three heated historical romances star wonderful protagonists who grip the audience in each case. Readers will appreciate these naughty yet nice novellas.
American Beauty by Susan Johnson
Dr. Yes by Katherine O'Neal
The Seduction of Mrs. Rutledge by Diane Whiteside
Twin Peaks – 2005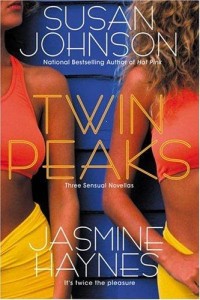 It's stimulation for the body-and the mind-as Susan Johnson and Jasmine Haynes exquisitely explore the erotic adventures of twins in these three novellas that cross the boundaries of the flesh and the imagination.
Wedding Surprise by Susan Johnson
Double the Pleasure and Skin Deep by Jasmine Haynes
Perfect Kisses – 2007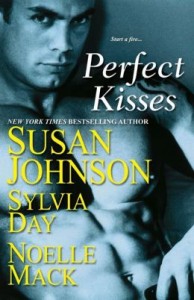 From New York Times bestselling author Susan Johnson and Sylvia Day and Noelle Mack come three sizzling stories about the art of seduction . . . It Starts With One Perfect Kiss
School For Scandal by Susan Johnson
Mischief And The Marquess by Sylvia Day
The Ruby Kiss by Noelle Mack
Undone – 2010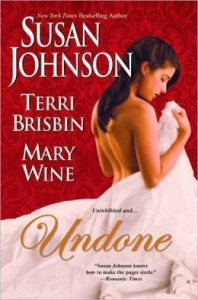 From the elegant halls of London to the rugged castles of distant Scotland, historical romance has never been hotter! New York Times bestselling author Susan Johnson, with Terri Brisbin and Mary Wine…
As You Wish by Susan Johnson
A Storm of Love by Terri Brisbin
Stealing the Bride by Mary Wine